Wow. So, this is an interesting story.
This entire track spawned from my almost 7 year old daughter coming up to me with her ukulele and playing me what became the intro to this song and asked "do you like it?" I was dumb founded for a bit, before letting out an enthusiastic "yeah! I do!" my youngest then wanted to be part of the project so she provided some plastic pan flute. I corrected the timing on the ukulele a little bit but overall my daughter has a great sense of tempo and keeping time.
Now for the dark part. I picked up my 6 string strat to try and compliment the ukulele riff, decided the octave thing worked well, recorded that. Picked up the bass, and did something similar. It wasn't until I started programming drums (by record live takes and mashing keys) that I realised where the rest of the inspo was coming from... Puppe by Rammstein from their 2019 self titled album. Which is arguably their equivalent of "Daddy" (Korn) or "Skin Ticket" (Slipknot).
I decided what the heck. The fact I'm writing something with my children just adds to the chaos. Amazingly the lowest note in the original ukulele riff is C#, so I *had* to tune the 6 string and 4 string bass to accomodate. So then of course, chugs had to happen.
I've wanted to record a song in German for a long time, the pronunciation is probably off because I recorded the vocals in 1 or 2 takes with 30 mins to go so for any German folk, I apologise. Rammstein have been a huge source of inspiration to me for 20 years, both musically and for getting through hard times so I did the German vocals from a tribute point. Now onto those. They're dark. But have a double meaning, much like 90% of Rammstein's own songs. The main sound I went for here was "If Puppe was on Reise, Reise".
This is also my first song to contain a subliminal message, if you reverse the track, it won't take you long to find it... wink (it kind of makes the whole thing less creepy and sheds a light on the ORIGINAL meaning of the song title) when I was translating the lyrics back and forth I didn't realise until after recording/uploading that the "literal" translation of some of the words is so much more messed up than what I intended/thought I was saying. Just a disclaimer lol the English lyrics below are the INTENDED translation. Google Translate if you want to see how messed up my lyrics became without meaning them to be lol. At this point I should just mention the subliminal message is "I'm a dinosaur, rar!"
Lyrics (German and then English)
Der Heilige
Heiliges Tier
Winkt den Jungen
Hellichten Tag
Raub
Raub
Raub
Raubtier
Raub
Raub
Raub
Raubtier
English:
The Saint
Holy animal
Beckons the young
Broad daylight
Robbery
Robbery
Robbery
Predator
Robbery
Robbery
Robbery
Predator
----------------------------------
EXPECTATION: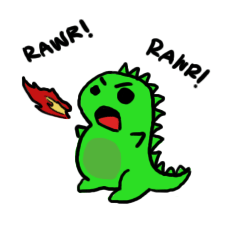 REALITY: