Hello Everyone!!!
First, I want to thank you for all the comments, the positive feedback and all that wonderful music! My playlist is now a couple of hours long and growing really fast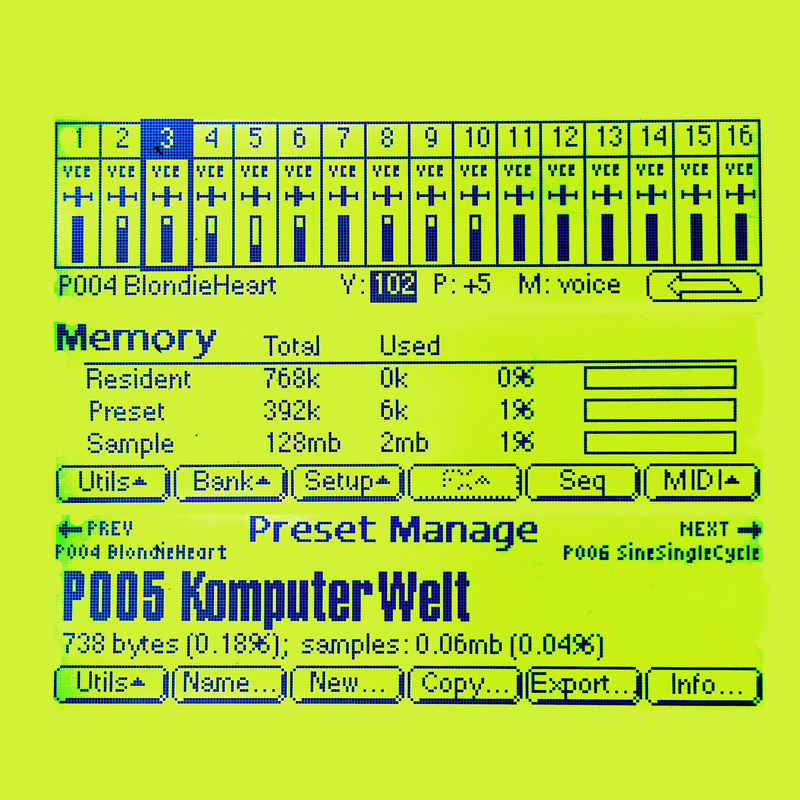 After owning this famous "oldschool" hardware sampler for 8 straight days, this is what I've been capable of. E Everything you'll hear it's been generated on the E-MU e6400 classic, sequenced via MIDI using Ableton Live 9 and recorded back to the computer straight from the stereo output. No internal FX card on the sampler. Minimum post-production.
By "minimum" I mean: I had to leave my home on Friday afternoon, so everything had to be ready by then. There were some isolated peaks that reached level 0 db but the average output was -6 db, so I applied some slight compression/mastering on the overall stereo track to limit those peaks and gain back those 5-6 db's. Other than that, there were no additional mastering. One major drawback: I was in a real hurry to finish on time so I recorded the whole stereo mix through my Vestax mixing desk USB soundcard (which sucks big time!) so I had 24 bit with 44.100 Khz freq and some UGLY GROUND LOOP which is audible sometimes in the quiet parts.
I really want to re-record the whole mix improving those tiny peaks so I could avoid the compressor, and also plug the sampler without a mixer inbetween (it was a matter of cable lenght and lack of time, mostly).
This one has been a lot of work, and I really mean it. Maybe it's not that good, but I could swear it was a labour of love. I hope not to bore you with a lot of details but I wanted to document the process and share with you fellow producers and musicians.
Almost every sound was taken from vinyl, and I'm not "worried" to cite the sources because I worked really hard on creating new sounds. Everything taken from "the big names" is never longer than 1/8th of a bar. Mostly individual drum hits, heavily filtered using those fascinating E-MU envelopes.
A brief list of samples (hope WeeklyBeats staff doesn't find any infringement of the site rules... I think I work my a** off so no obvious "steal" is made here. Anyway, I would love to hear your opinion on the subject)
drums (no loops, just 1/8th breaks and individual hits):
Player - "Baby come back" (1977) (bass sounds and snares)
The Gap Band - "Outstanding" (1982) (individual conga hits)
Kraftwerk - "Home Computer" (1981) (hihats and one "blip" used both as kick and snare enhancer)
Blondie - "Call me" (1980) (I needed some Roland CR8000 analog drum hits found in the first half bar)
pads were taken from the first chord of an old Data Becker "Techno Maker" demo from 1998
Dirk Geiger's "Zusammen" (2011) (i dropped the needle at random and searched for a hihat, then warped)
The intro speech belongs to Mark Ronson's TED Talk on the culture of sampling, heavily timestretched
Lead "synth" and sub-bass was built with Audacity: pure sinewave single cycle and really short square wave with reverb (less than 16 Kb in size). Sweeps and FX are created using another Audacity "white noise" single cycle loops, plus one sound effect taken from a "scratch battle" vinyl abruptly stopped.
THE WHOLE PROJECT FITS INTO TWO FLOPPY DISKS. Ableton Live's MIDI project is only 49 kb

I know there are plenty of mistakes, but I guess you could see I'm proud of finishing this one. It was a personal challenge and you could believe I am really NOT a hardware fanboy. Musically there are several other ways to achieve a similar result, but this week I tried this one.
Thank you all for listening and best wishes for week 8

P.S. I leave you with some photos