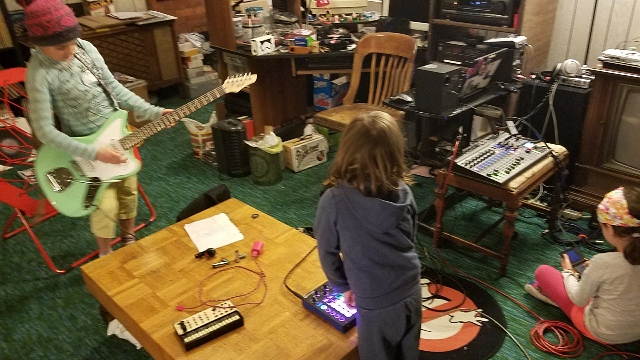 Charlie: Agile Argus 630 (Bass VI copy) -> Donner Harmonic Square, Earthquaker Sea Machine, Earthquaker Disaster Transport
Josie: Korg DS-10 -> Soundtoys Little Plate
Phoebe: Novation Circuit
Charlie had a specific sound in her head and thought the music they made was very similar (in a good way).
Josie was trying to make it sound like thunder cracks. I asked her what the melody she was playing was and she told me she was trying to play the Casio PT-1 demo song.
Phoebe liked pushing the buttons and going do do do do doo. But it gave her a stomach ache and she had to stop playing.