This week I'm honoured to be able to collaborate a fellow WB veteran: Colorful Grey.
Each of us is writing a different foreword, so I guess I must describe the process from my point of view:
It all started on Monday when I received an Ableton project with some beautiful 8 bars of lute music in three tracks. Christian AKA Colorful Gray told me it was a rough idea but maybe I could find some way to put it in good use. I could here some vague pop structure in it (in the way those acoustic mandollin passages on the early Led Zeppelin records are poppy), so my task was to convert those three 20-something-seconds-long tracks into a 4 minute arrangement, so to speak.
As our styles could be sometimes very different I was afraid, as a musician, that Christian would find that I was "ruining" the idea. I am heavily loop/rhythm based and he's a melodic composer quite concerned about harmony and expressive playing. I felt that, in order to make those fragments work, I should quantize and "warp" the hell out of them so the fit into a tight grid, and then I could layer some synths, bass, and lastly the breaks and beats.
Those timid 3 lute tracks slowly grew into a monstrous 18 track project (yes, real producers could laugh about my "lot of tracks" terror". I tried really really hard to reach level 0 without any mastering so the sound wouldn't be overcompressed.
For all the production geeks out there: drums were brought back to life from my darkest Win95's HammerHead / Boss DR-550 era, and they're basically almost 20 years old. They took me about half an hour to place and almost 5 hours to EQ and compress so they sounded nearly cohesive.
Enough technical details, what it's important about such a project is the following:
We exchanged mails, Whatsapp messages and files while fighting a 6 (or is it 7) hour time gap between the States and Spain, life, work and day to day task. I found it really difficult because some decisions and suggestions could be made in a matter of minutes but took us a couple of days. Since I am not a performer, most of "what I've got to show" requires several hours in front of the computer just to be able to show your idea. In order to keep the schedule (I only would be able to work the track until friday morning) I worked roughtly from 22:00 to 4:00, so Christian could hear the advances every morning.
My overall feeling, and this could surprise someone maybe, is that I would have loved to build this one not using loops, but a room with 2 fellow musicians sharing ideas back and forth. I'm really sure we could have played and created rich harmonies having different takes (and the chance to discuss them). I'm quite happy with the result, though sometimes making the track advance is not a matter of "what we'd love to have" but rather "what we've got" in that exact moment. Collaboration teaches organization and a certain "etiquette" we've all have to follow.
Thanks again to Christian for his patience and to tolerate me ruining his playing with my usual boom bap cheap tricks : 1,2,3, no bass and just melody, 5,6,7, just the main bass tone and a kick drum, rinse, repeat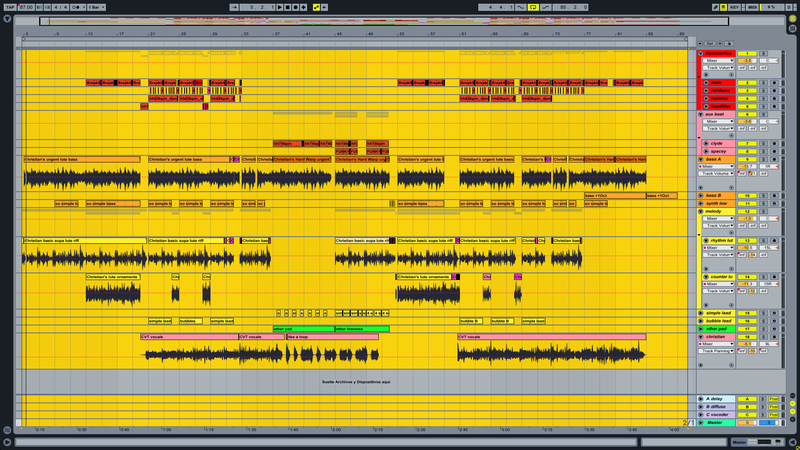 P.S.: Please stay tuned for some artwork we'll upload soon. It's way passed the deadline and I'm still rewriting this foreword. Peace